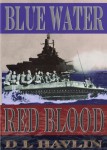 Lake Okeechobee is half a world away from the Pacific Islands, but D.L. Havlin's new historical novel, "Blue Water, Red Blood," chronicles their surprising connection.
The Pine Island writer weaves a tale that begins with Florida's devastating 1928 hurricane, which killed thousands around Belle Glade and the Everglades, and ends with victory in World War II.
Though it's a work of fiction, in that Havlin creates interior lives and conversations for his characters, the events in the book are based firmly on the real-life history of the development of amphibious warfare tactics used by the U.S. Marines in World War II and the men who made them reality.
Three very different men with very different motives play a part in the development and adoption of the armored landing vehicle that made the invasions of the Pacific islands possible, Havlin says.
Welding together the lives of Donald Roebling, inventor of a hurricane rescue vehicle, Andrew Higgins, a boat manufacturer, and Gen. Holland Smith, considered the father of modern amphibious warfare, the trio fight Navy skepticism and government bureaucracy to prevent the slaughter of troops while attempting the most dangerous of all military maneuvers: landing on a fortified enemy beach, he says.
The $21.95 book, which was released November 1 by Pennsylvania-based Double Edge Press, has already won the Royal Palm Literary Award from the Florida Writers' Association.
"There's lots of local history," says Havlin, who's also a boat captain and fishing guide. "It all really starts with the 1928 hurricane on Okeechobee."
Following the storm, Florida magnate John Roebling, whose father built the Brooklyn Bridge, sent a party of his employees to help with the rescue effort, but his crew's attempts to reach victims were frustrated by the flooded, mucky landscape.
Roebling challenged his inventive, eccentric 23-year-old son, Don, to develop a rescue vehicle that will "go anywhere under any conditions." Don accepted, and the amphibious tractor eventually nickamed "the Alligator" was born.
Price: $21.95
You can order on line from:





Available as EBook  or purchase from your local bookstore. Book ordered through Double Edge Press can be signed by the author at your request.