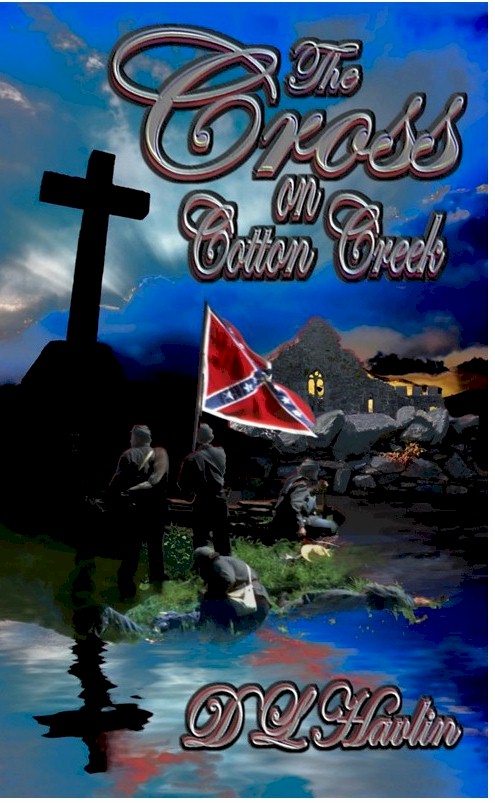 Two Confederate soldiers are trapped behind Union lines as Sherman marches to the sea.  Injured and evading capture, they find shelter in a church with a brave minister and his "family."  Thankful for the preacher's act of compassion, one soldier commits to maintaining the cross atop the church's steeple as long as it stands.  The intense story tells of the two soldiers' hardships, the fate of their rescuers and the struggle to fulfill one of the soldier's promises by future generations.  The soldiers, their descendants and those who protected them make sacrifices that consecrate the church grounds and make it a place where miracles occur and prayers are answered.  The events that transpire there range from ghostly appearances to the thwarting of a murder.  Those who are impacted by acts of faith and duty truly have the right to thank The Cross on Cotton Creek.  
Can a man's faith make a difference?  Can a man's word shape the future?   The Cross on Cotton Creek, a novel that tells the tale of soldiers caught in the backwash of Sherman's March to the Sea, answers those questions with an empathic YES!  Wounded soldiers Dawes and McKenney are sheltered and nursed to health by a minister as a virtual Armageddon sweeps around them.  Read how the sacrifices made by the soldiers and those hiding them consecrate the church grounds where they were sheltered.   The old church becomes a place where miracles occur and prayers are answered.  See how their devotion to their word and faith leaves a legacy to future generations of their families and all those that visit The Cross.  When you're done reading you're sure to want to help paint The Cross on Cotton Creek .
~~~~~~~~~~~~~~~~~~~~~~~~~~~~~~~~~~~~~~~~~~~~~~~~~~~~~~~~~~~~~~~~~~~~~~~~

Amazon Top positive review

5.0 out of 5 stars – Recommended as Must-Read For Different Perspective on War…
By Glenda on November 25, 2012
This powerful story has more to offer than the historical perspective…perhaps when a cross is involved, miracles seem to happen? Or perhaps many individuals can never understand that time when Americans turned against each other in war? For those like me, we can't understand such hatred–perhaps that's why a story of such love in the midst of that war creates the impact that this story will have–if you only believe…
The story begins in the 50s, in a small town you probably never heard of. Away from the town with lots of land around it, a country church was once built. During the Civil War, something terrible happened there–so terrible that it would never be forgotten by the town folks and those who were related to those who died that day.
Landry Dawes is the storyteller–I won't go into which one because there will always be one who would pass on the story, learning more each time somebody went back…
To paint the Cross…
For during the war, one of the Landry Dawes was a confederate soldier who had been the last man available to finish an important mission–to deliver supplies, which included gold, further south. But they never got further than when they had first been attacked. Hiding the gold, the men were soon gone, but Landry Dawes was injured and wound up at the church on Cotton Creek.
Soon Eli McKenney joined him there with a leg wound that was treated by a vet but would never heal properly. Reverend and Mrs. Hurley, who had once bought six slaves, only to give them their freedom, still had two of those individuals, who had decided to stay, helping them with their church activities.
Now they were risking their lives to hide and help the two confederate soldiers. The two soldiers were so grateful that they wanted to do something to repay the Reverend. Landry agreed to his request to repaint the cross before he left. Dawes' response was that he would not only paint it then, but he and his family would return every five years to repaint it and keep it bright and shining and maintained… But what he next asked of Eli McKenney was much harder–never to kill another man…
And then later, the Reverend had asked Landry to also not kill. He made the same promise; however, Landry recognized his short temper, and he knew he would never keep his word if the Yanks came again. So he decided to leave and head back home.
That decision saved his life…
For that church was soon surrounded by soldiers. McKenney had been hidden up in a high tree away from the church. He had tied himself to the limb so he wouldn't fall off and even then, as far up as he'd been pulled, he couldn't get down. So, by straining to turn his head, he had to watch all that happened, until most of the church had been destroyed, except for the cross…
Only one had not been there of the families who died that day. But she had heard of what was happening but arrived too late except to save McKenney. And soon, there was nobody in the community that could tell what had happened…
Except the ghosts who remained and led to "some" of the miracles that started to happen when somebody bowed there in front of the cross to pray…
Perhaps there have been even more miracles that have happened since those that were recorded in his novel. One thing I do believe is that if that cross still stands near the remains of that church, a "Landry Dawes" will be coming back to paint it every five years…
And what I also believe is that D. L. Havlin has provided us with a wonderful Civil War Novel that includes an unusual side of that time when men of faith asked that the killing stop and that the promises of men may continue through the decades and hundreds of years, when they are asked to give their word… A truly outstanding tale of wonder, ghosts…and…love. I offer this one to you as a must-read!
________________________________________
GA Bixler Reviews
3.0 out of 5 stars – The Cross on Cotton Creek
By Edna Tollisonon November 15, 2012
This title of this book pretty well tells the story. It takes place during the War Between the States. As a confederate soldier and an officer are traveling they are looking for a place to stay, and they found this little country church and they both were injured and hungry they want to stay. As the minister and his family take them in, Sherman is on his march toward the sea thanking everything in his path and burning it or destroying it. Soon the family at the church finds that a bounty has been placed on these two men's head, could they protect them enough?
Four generations later as they families gather at the site of the little church to repaint the cross that was standing there at the church ruins. It had been over a hundred years and this family were drawn here every year. If they only knew the miracles and prayers that had been answered that day long ago.
A very good book if you love history as I do and I want to thank Paula Krapf for sending me this book to review.
________________________________________
4.0 out of 5 stars – Great History. Great spirituality
By Chuck Dowling on April 11, 2013
Format: Paperback
I just finished D.L. Havlin's novel The Cross ay Cripple Creek. It is a great read. Mr. Havlin has managed to tell a story that moves back and forth between the end days of the Civil War, in the 1860's, right after Sherman's march to the sea, to the 1950's with a few stops between, and he has done it masterfully. Basically the story is about a group of people, including a Pastor and his wife and their two Negro slaves, who take in two wounded Confederate soldiers and protect them in the basement of The Church at Cripple Creek in Georgia.
Because of their kindness one of the soldier's takes an oath to the Pastor to kill no more and also that he will come back after the war and paint the cross. He also pledges that some member of his family will come back and paint the cross every five years. This tontine is honored by the soldiers descendents, which sets the pace for the whole story.
There is an underlying spirituality to the tale, as good things happen to the family over the years and bad things happen to their detractors.
The Cross at Cripple Creek is an uplifting novel and a great read.
________________________________________
4.0 out of 5 stars – Good Book
By nan on June 12, 2012
Format: Kindle Edition
I read the book in a few days and it held my interest throughout. I feel most people would enjoy reading the book.
________________________________________
5.0 out of 5 stars – Excellent
By Kathy Scott on November 29, 2013
Format: Kindle Edition|Verified Purchase
This book combined history with an interesting story. The cast of characters brought more interest and intrigue. After reading this I had to look for the authors other books!
________________________________________
5.0 out of 5 stars – Plot and history well done
By Barbara Meyer on November 10, 2013
Format: Paperback|Verified Purchase
Enjoyed the history and the story of the Confederate war and the brave men who fought there. Would like to visit the South.
________________________________________
5.0 out of 5 stars – Great book
By Gene S. Raymond on November 7, 2013
Format: Paperback|Verified Purchase
It was just a great read. I like books of this type. I am trying to find the Hanging Tree by D L Havlin.