NEW  RELEASE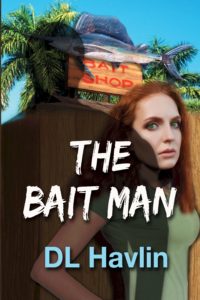 An action-mystery, set in breezy Florida,

stars a former Marine
Chessie Partin is a 34-year-old ne'er-do-well living in her hometown of Vero Beach after a four- year stint with the Marines, now studying archaeology. She lives with her brother, Reading, a police officer on suspension for arresting the wrong person—someone with higher-up political connections. Hootie Barnes, who runs a deep-sea fishing rig, offers Chessie a part-time job as a mate on the boat, cleaning the vessel and helping tourists with their rods. The money's good, but Chessie soon discovers the downside to the job: dealing with the bait man, Rooster Cocker, who delivers chum to the outfit every week. Rooster is a gruff man who reeks of chum—a vile smell—and scared off Mary Perez, the last ship's mate, with his unwanted sexual advances. He takes the same sort of liking to Chessie, who immediately despises him.
She believes that something may have happened to Mary—the word about town is that she eloped with her beau, but nobody's heard from her—because of Rooster. Chessie's suspicions are confirmed when she sees what appears to be a human jawbone in one of the blocks of chum. Using her archaeological skills and with some help from her brother, she starts to gather information on Rooster, tailing his truck and digging into his business. All of her investigating snowballs into something much bigger than she could've imagined, involving a shadowy ranch out in the boonies and a smuggling operation run by men even scarier than Rooster. Havlin (Bully Route Home, 2015, etc.) writes in a brisk, conversational style with loads of affection for the sunny Florida setting and an abundance of humor. Lewd jokes and snappy comebacks abound, although some of the quips—about Chessie's breasts, for instance—get repetitive. While Rooster and Chessie are memorable, fully developed characters, many of the supporting players lack depth, leading to some predictability. But the cast takes a back seat to the fast-paced plotting, as the author is skilled at teasing out new revelations and keeping the entertaining novel suspenseful. 
A well-spun yarn with plenty of love for its salty environs that should satisfy beachgoers and conspiracy theorists alike.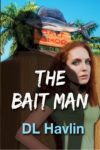 ISBN:  9781943789450
Price: $18.95

You can order on line from:

 

_____________________________________________
  Havlin most recent won a Royal Palm Literary Award from the Florida Writers Association for the best literary novel manuscript, Bully Route Home, at their conference in Orlando.  Bully Route Home focus is on two issues that continue to command today's headlines, bullying and race relations.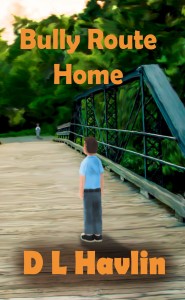 Set in rural 1940's south, the book reveals roots of these chronic societal concerns. When twelve-year-old "Pooch" Robertson becomes the local bully's favorite target, he attempts to avoid the daily beatings by taking a secret route home … one that goes through the "negro quarters." This simple act lights a fuse of events that threatens to end in a full-fledged race war within the community.
Review:  Hungrymonster
Havlin's descriptions are elegant and on point, he doesn't spend too much time with fluff. His words are direct and to the point. He knows exactly the right words to say in order to expertly evoke emotions from his readers. I cannot begin to say how times I wanted to cry or gasp out of surprise. There were other times when my heart just sank at the actions of one human towards another. DL Havlin takes one of the dark shadows on our history and brings it to life, brings it to reality. We all heard the stories in school; DL Havlin's novel makes it all too real. He doesn't shy away from the horrors one group of people caused another. It became a story something different from what I was expecting. This is definitely a book that needs to be read just as much as Mark Twain's Tom Sawyer or Harper Lee's To Kill A Mockingbird.
Reviews:  https://hungrymonsterreview.wordpress.com/
ISBN:  9781938002519
Price: $19.00
You can order on line from:
    

   

  

   
_____________________________________________

 Havlin won a Royal Palm Literary Award from the Florida Writers Association for his historical novel manuscript, Blue Water, Red Blood, at their conference in Orlando, October 22.  Blue Water, Red Blood traces events leading to the development of amphibious warfare tactics used in World War II and the men who made them a reality.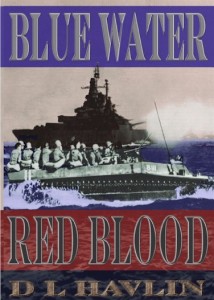 Told through the eyes of a Tarawa survivor, these historical events are accurately relived over an 11 year period.  The real-life characters' fictional encounters let the reader experience their thoughts, emotions, and frustrations as these men struggle against multiple obstacles to save thousands of lives in the battles against Japan.The true story of the Amphibious Tractor used by US Marines during World War II is told in this unique novel.  Three very different men with very different motives have a part in the development and adoption of the LVT the landing vehicle that made the invasion of the Pacific islands possible.  Welding together the lives of  Donald Roebling inventor of a hurricane rescue vehicle, Andrew Higgins a boat manufacturer, and General Holland Smith father of modern amphibious warfare, they fight Navy skepticism and government bureaucracy to prevent the slaughter of troops making the most dangerous of all military maneuvers, a landing on a fortified enemy beach.
ISBN:  9781938002090

Price: $21.95
You can order on line from:



 
Available as EBook or purchase from your local bookstore.
_____________________________________________________________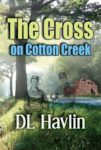 Two Confederate soldiers are trapped behind Union lines as Sherman marches to the sea. Injured and evading capture, they find shelter in a church with a brave minister and his "family." Thankful for the preacher's act of compassion, one soldier commits to maintaining the cross atop the church's steeple as long as it stands. The intense story tells of the two soldiers' hardships, the fate of their rescuers and the struggle to fulfill one of the soldier's promises by future generations. The soldiers, their descendants and those who protected them make sacrifices that consecrate the church grounds and make it a place where miracles occur and prayers are answered. The events that transpire there range from ghostly appearances to the thwarting of a murder. Those who are impacted by acts of faith and duty truly have the right to thank The Cross on Cotton Creek.
Price: $18.95 
You can order online from:



 Available as EBook  or purchase from your local bookstore.

---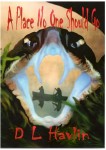 Canoeing into the Florida wilderness is a near weekend ritual for the Callison family. Even the youngest of their three children at five years old knows how to safely navigate the dangers of the wild. But, what happens when the wilderness they are required to traverse is contained within a man's soul?
Ben Callison and his family's latest camping trip takes a strange and sinister twist when they meet a myeterious Indian where they elect to pitch their tent. The Seminole warns Ben he's camped in a place that evil calls …
You can order on line from:



Available as EBook  or purchase from your local bookstore.

---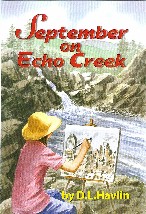 A story of a woman's betrayal and her struggle for emotional independence – and the place, the people, the mystique that helped her. In September on Echo Creek, a single ethical concession by Gaylynn Nelson, coerced by her fiancé, forces her on a trip, igniting a dizzying series of events. Her "vacation" changes the lives of friends and family in her Manhattan home and in the mountains of rural North Carolina. A character-driven novel, September on Echo Creek tells how an affluent socialite is confronted by her conscience and lifestyle in this story of culture clash and betrayal. During a thirty-day period, she is forced to accept that her future is threatened by those who profess love for her, not an acknowledged adversary. With the help of friends, old and new, Gaylynn faces redefining who she is – and survives an attempt on her life.  
Price:
$21.95 Book & Music CD
$16.95 Book only


Reviewers and readers say:
Name: Pat Hergert
Email: hergertpa@yahoo.com
Comment: Mr. Havlin, I purchased your book "September on Echo Creek" at Craig' RV Park at a bluegrass festival. Loved the story… have read it 3 times. I had our church friends book club read and discuss it this month. Everyone really enjoyed it and we had one of the best discussions of all winter. So glad to find other books from your prolific mind and will be ordering them soon. Thank you for giving us so much reading pleasure. Pat
Date: 3/5/14

Name: Cindy Depp-Hutchinson
Email: punxsygrace@verizon.net
Comment: Our church book club read your book "September on Echo Creek". We wanted to let you know we enjoyed the book. All in attendance could not figure out who the fisherman was. We found it suspenseful and couldn't put it down. When we all got to the end, we loved the descriptive details. We felt we were on Echo Creek. We would like to visit Echo Creek.
Date: 4/07/14

"The book and CD combo is a great idea from two rising stars in the publishing and music world."
"Its strong feminine characters steal the show. Hurray for writing with a heart."
"Pace. At last an author has rediscovered it. In DL Havlin's September on Echo Creek, the plot draws the reader in carefully and quickens the story to a suspenseful conclusion. It's good to read a book that's first pages aren't so overloaded it loses its punch. Put this book on your buy list."
---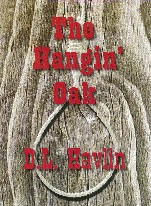 Ghost Story!
Imagine being skeptical of the existence of ghosts, only to find they are real and that by accident you've carried two unwanted spirits home.
In The Hangin' Oak
, a happy prosperous couple finds their lives and futures upended under the influence of two apparitions thrust forward in time 140 years. Forced to cope with the reality posed by each other, the fortunes of humans and specters lead them to forge a relationship to help solve both their problems. In this character-driven novel, set in the modern South, moments of humor and heart
mixed with drama and suspense will urge the reader to re-examine the question "Are there such things as ghost

s?"
Price $14.95
 

What people say: "The Hangin' Oak is a gritty, modern-day ghost story that will make you believe. Havlin's suspenseful plot, insightful heart-felt observations on relationships, and infectious sense of humor combine for a compelling read that will keep you turning the pages." Elizabeth Spann Craig, Author of A Dyeing Shame "Havlin takes his reader to a place he knows well, the swamp and scrub of Florida. Too narrowly defined as a "ghost story," The Hangin' Oak combines early Florida history with the natural mystery that is still the "old Florida" many of us remember and still visit. Robert W. Fulton, PhD., Author of But…You Know What I Mean.