"Out and About"
~     ~     ~     ~     ~     ~
May 15, 2015
Press Release 
Double Edge Press is pleased to announce the publication date of DL Havlin's award winning literary novel, The Bully Route Home. Winner of the Florida Writers Associations prestigious Royal Palm Literary Award, The Bully Route Home focus is on two issues that continue to command today's headlines, bullying and race relations.
 Set in the rural 1940's south, the book reveals roots of these chronic societal concerns. When twelve-year-old "Pooch" Robertson becomes the local bully's favorite target, he attempts to avoid the daily beatings by taking a secret route home … one that goes through the "negro quarters." This simple act lights a fuse of events that threatens to end in a full-fledged race war within the community.
The Bully Route Home is the fourth DL Havlin novel published by Double Edge Press. The planned date for the novel's publication and release is August 15. Learn more about Double Edge Press at www.doubleedgepress.com and DL Havlin at www.dlhavlin.com.
Rebecca Melvin
Managing Editor
72 Ellview Rd, Scenery Hill, PA  15360
email: cuttingedge@atlanticbb.net    phone: 724 518 6737    fax: 724 239 4625
website:  http://doubleedgepress.com
 ~     ~     ~     ~     ~     ~
Museum of the Island is pleased to announce author DL Havlin will be at the Lutheran Church, Monday, January 5th at 6 PM) to present a power-point program on his historical novel Blue Water, Red Blood. Havlin retells the story of two Americans, Holland Smith and Don Roebling, who were instrumental in winning the World War II island battles in the Pacific. His presentation will concentrate on the portion recounting Florida's contribution to this effort.  This is a can't-miss event for history buffs, military book readers, people interested in Florida's past, and those that wish to learn how our political system impacts life and death decisions." Blue Water, Red Blood follows thriller, A Place No One Should Go and Civil War novel The Cross on Cotton Creek as the 3rd Double Edge Press publication of a DL Havlin book in the last 30 months. The author's books will be available and signed after the event. 
 ~     ~     ~     ~     ~     ~
Florida Heritage Book Festival Writers Conference

September 25 & 26
Creating Memorable Characters
Award-winning author DL Havlin leads a workshop at the Sept. 26 Writers Conference at 10:15 a.m. titled
"Crafting Characters to Fit Your Story."
Sign up now to meet Havlin and the numerous other writers and authors who will lead critique and writing workshops.
 ~     ~     ~     ~     ~     ~
Friends of Fort Myers Library, May 14th
                      
~     ~     ~     ~     ~     ~
On May 3rd, come and visit with me at… 10:00 AM-3:00 PM
 
A. Parker's Books 1488 Main St Sarasota, FL 34236
How do you like my new cover?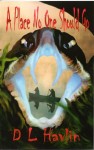 ~     ~     ~     ~     ~     ~
Saturday, April 26th




FWA Writer's Nest Mini-Conference




Hilton Orlando/Altamonte Springs
~     ~     ~     ~     ~     ~
Englewood's Dearborn Street Book Festival
Saturday, February 15
10:00 AM – 3:00 PM

~     ~     ~     ~     ~     ~
Check out my interview
http://youtu.be/JP3pGbUHn0M
~     ~     ~     ~     ~     ~
Come by to see me at Matlacha Menagerie, Pine Island, FL
Saturday, February 8th
10:00 AM – 3:00 PM

~     ~     ~     ~     ~     ~
 ~     ~     ~     ~     ~     ~
Jacaranda
West Country Club

1901 Jacaranda Blvd.
Venice, FL  34293
Holiday Arts and Crafts Boutique
Saturday, October 26th
10:00 AM – 3:00 PM

~     ~     ~     ~     ~
CHRISTMAS IN JULY
July 12, 13 and 14, 2013
9:00 AM – 4:00 PM
Cultural Center of Charlotte County
2280 Aaron Street
Port Charlotte, FL 33952

~  ~  ~  ~  ~

 On July 6th, come and visit with me at…
10:00 AM-4:00 PM

A. Parker's Books

1488 Main St
Sarasota, FL 34236
~  ~  ~  ~  ~
Wiley Cash and DL
~  ~  ~  ~  ~
SANDMAN BOOK COMPANY
Newsletter
May 26, 2013
                                              
~  ~  ~  ~  ~
DL Havlin Royal Palm Literary Award Competition Winner
Florida Writers Association held its 2012 Writers Conference in Orlando October 19-21.  DL Havlin's manuscript
The Bully Route Home
won first place in literary/mainstream Genre.
DL's manuscript  Francis' Flowers won second place in the thriller/suspense category.
Rebecca and Neal Melvin of Double Edge Press Publisher congratulate DL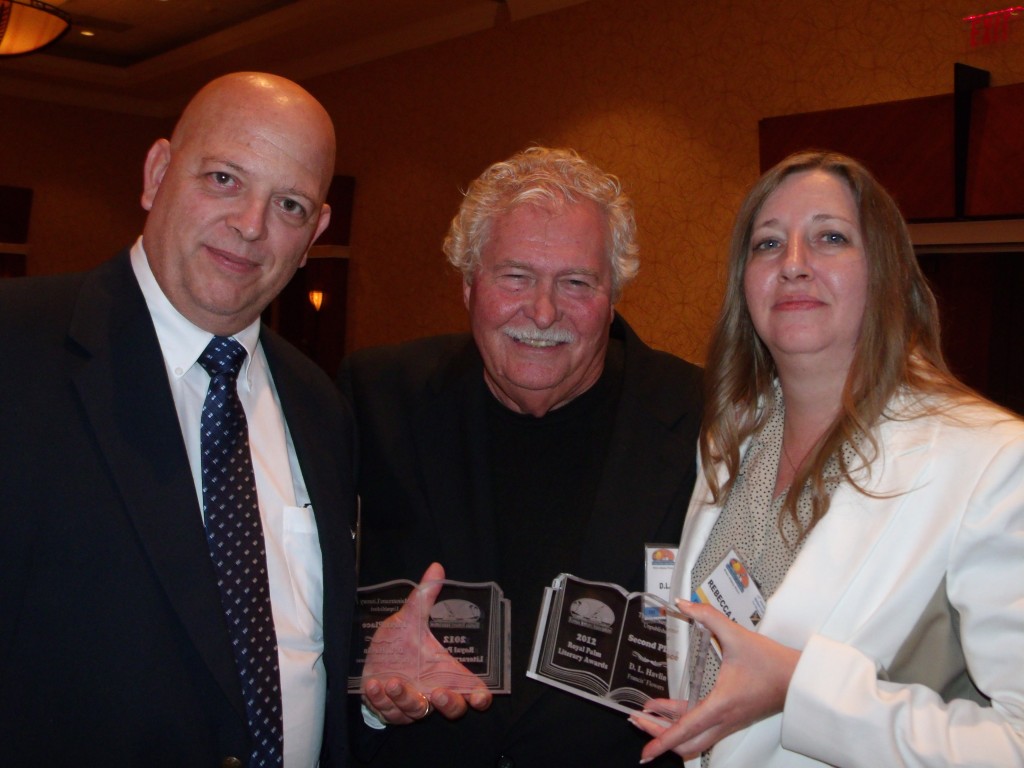 ~  ~  ~  ~  ~
BLUE WATER – RED BLOOD
           available May 2013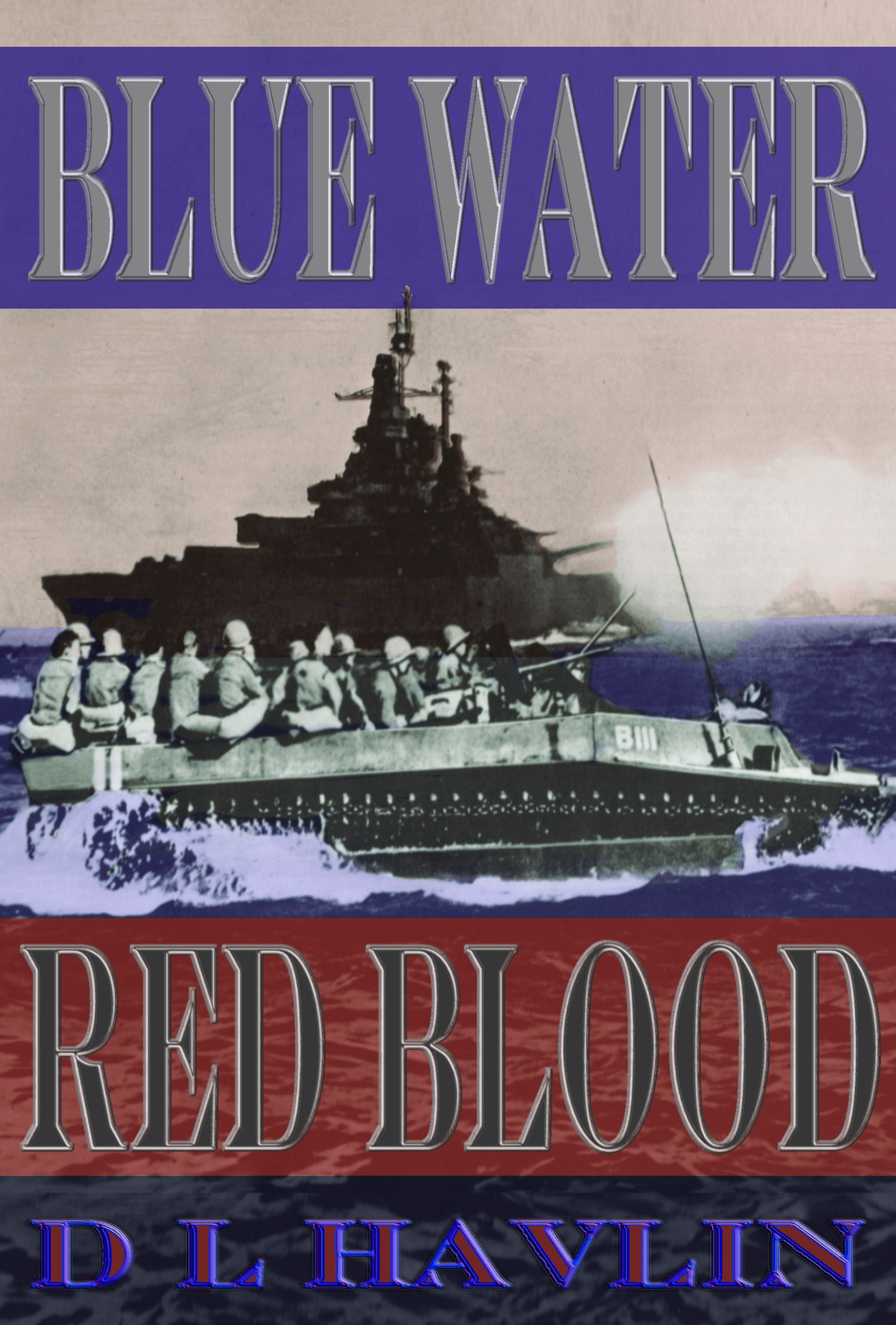 Based on a true story and historical figures that made the United States victory in the Pacific possible. This novel is the "near history" of two men who battle seemingly unsurmountable odds to develop tactics and equipment required for landing Marines on a fortified beach.

~  ~  ~  ~  ~